About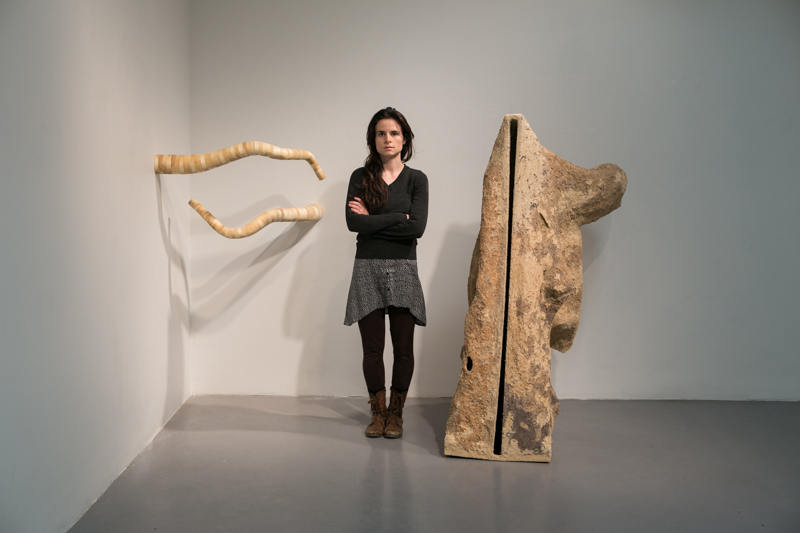 BIO
Mandy Keathley received an MFA in Art from the University of Oregon, and a BFA in Sculpture from the University of North Texas. She is currently based in Eugene, OR, and teaches at Linn Benton Community College.
Keathley has exhibited her work nationwide, including 500x in Dallas, TX; First Street Gallery in NYC, NY; White Box Gallery in Portland, OR; and Disjecta Gallery in Portland, OR. She has been awarded residencies at the AiR Sandnes, Norway; Signal Fire Arts Residency, Kanab Creek Wilderness, AZ; and the Physics/Artist Residency at the Corwin Physics Lab, Eugene, OR, Vermont Studio Center, Johnson, VT; The Opossum House, Eugene, OR; and Playa, Summer Lake, OR.
STATEMENT
To sculpt is to cloak empty space in material. Like a balloon containing air, my sculptures give shape to empty interior spaces, a simultaneous act of revealing and concealing. The experience of making a sculpture for me is like climbing a rock; both involve technical problem-solving, a physical engagement of the body, and a desire to discover something I have not seen before. I filter space through my own body's physicality, which necessitates an immersive process in the studio, allowing for collaboration with material. Each sculpture expresses my phenomenological experience in the world; they are bending under the weight of chaos and decay, layered with a simultaneous sense of playfulness.
These works draw attention to interior spaces and express a sensation of shrinking space in the world, as a result of the internet and other technologies which accelerate our experience of time. I am also exploring the tension between the human desire for both limitations and freedom, evident by the ways we pursue social media, relationships, and my personal impulse to escape through science fiction or the wilderness. My current sculpture series is made primarily of sawdust, frames, balloons, and glass. As the sawdust mâché dries, the forms contract and fold, bowing to gravity and compressing space. The process transforms these rigid frames into biomorphic entities, with cracked surfaces and openings that provide limited glimpses into interior spaces. Most recently, I have begun to use balloons and geometric frames as my primary armatures, investigating the tension between containment and escape, or a sense of breath trapped, mid-exhalation.