About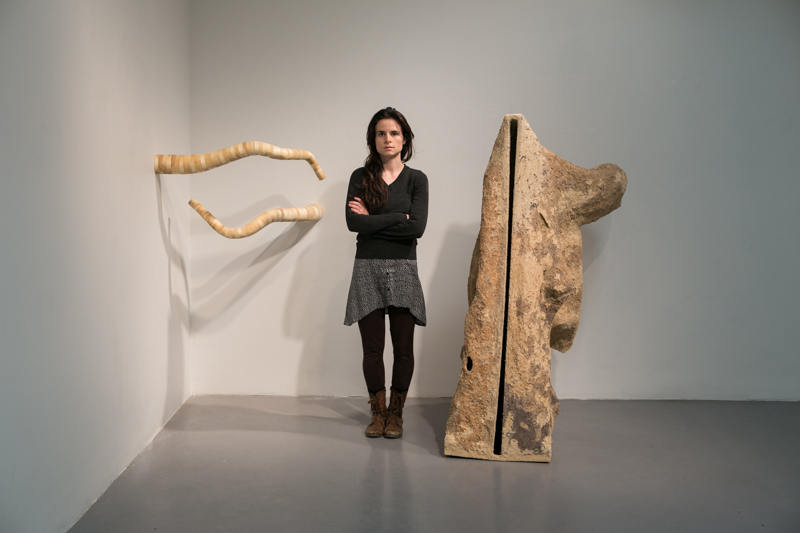 Mandy Keathley was raised in Garland, TX, and is currently based in Eugene, Oregon. She received an MFA in Art from the University of Oregon, and a BFA in Sculpture from the University of North Texas. Her work spans media within sculpture, drawing, and photography, all of which investigate the effect of perceived realities on the human experience. The work is often lead by material experimentation, driven by a desire to understand the earth on a physical level. Most of her projects blur the line between fact and fiction, and emerge as biomorphic forms which explore the tension between geometric and organic. Often inspired by deconstructing an object to find its constituent parts, she then reassembles and transforms the materials into something new. Her earliest works were made from disassembled pianos, while her most recent work is made from a sawdust maché, spread across armatures made of geometric frames, wire, and found objects.
Keathley has exhibited her sculpture nationwide, including 500x in Dallas, TX; First Street Gallery in NYC, NY; White Box Gallery in Portland, OR; and Disjecta Gallery in Portland, OR. She has been awarded residencies at the Vermont Studio Center, Johnson, VT; AiR Sandnes, Norway; Signal Fire Arts Residency, Kanab Creek Wilderness, AZ; and the Physics/Artist Residency at the Corwin Physics Lab, Eugene, OR.
STATEMENT
"Space is the sculptor's primary medium, a fact so obvious that it is easy to overlook. Rather than work toward an understanding of how a sculpture both creates and occupies space, we tend to focus on the comprehension of subject matter and on the material qualities of the work of art."
– Charles Ray
To sculpt is to cloak empty space in material. I make sculptures that wrestle with space, transforming materials and objects into new forms. As I wrap space with a skin, I conceal and reveal the neglected substances around us. Such neglected substances include discarded objects, industrial waste products, or even the air we breathe. Space is often taken for granted because it is foundational to our existence. Perhaps space itself is the essence of sculpture; however, space requires other materials to be seen or noticed. Therefore, to sculpt is also to transform the invisible into the visible. When wrapped in a skin, empty space can be visualized; when framed, the in-between is emphasized. For example, to fill a balloon gives visible dimension to air. Simultaneously, we cannot see the air itself but only the skin that cloaks it. Light reflects off the latex skin that surrounds the invisible space, while the balloon's physical properties provide shape to an otherwise invisible edge between interior and exterior.
Despite this enigmatic quality (or, perhaps because of it), I think about space frequently. I think about space when rock climbing, as my arms attempt to defy gravity's hold on my body. I think about the metaphoric space that I need from the world, the Internet, and social media. I feel a perpetual compression of space in my mind and body from the surplus weight of options and information available in the twenty-first century. When immersed in the wilderness, I am hyper-aware of space. Here, the air seems more open, clear, and free. Whether due the newness of place, the physical engagement of the body, or the open horizons, space feels distinctly different.